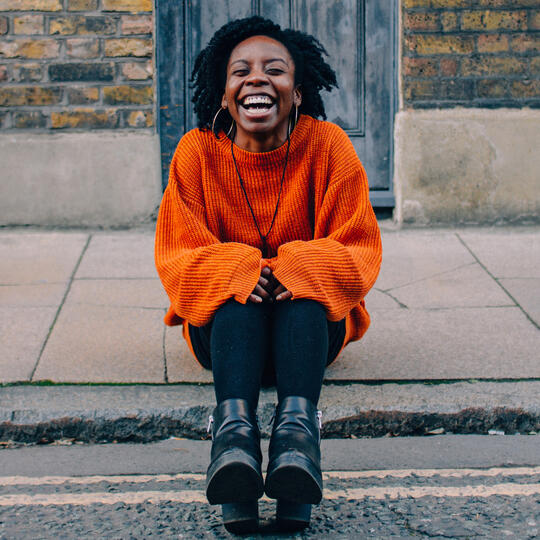 Ifeyinwa Frederick
---
A believer in the power of stories and human connection
Photo By Rebecca Need-Menear
business
Fuelled by a long-burning desire to share and celebrate the culture of my heritage, in 2016 I co-founded Chuku's – the world's first Nigerian tapas restaurant. Working with my brother (read: best mate and business partner), I'm on a mission to positively rewrite the narrative surrounding Nigerian culture in the UK and build a community centred around good food and good vibes.

I started Chuku's without any hospitality experience but have fast-gained a reputation as an industry pioneer. Winner of the 2019 Young British Foodie Awards, I have also been listed as one of Forbes' top 100 Female Founders in Europe, featured as one of Elle's star female entrepreneurs under 30 and recognised as one of the 15 Most Exciting Food and Drink Entrepreneurs in the UK by the Great British Entrepreneur Awards (GBEAs). I was also a finalist in the 2018 GBEAs and 2017 Black British Business Awards.

My first venture into entrepreneurship began at 16 when I started my own dance school as an alternative to getting a part-time job. Since then, my beliefs on what it means to run a business have evolved. Today, I believe entrepreneurship can and should be used to make the world a better place but those of us running businesses need to look after ourselves first. Business success isn't sustainable if we're not living healthy, sustainable lives. For me, that means reminding myself that I run a business, I'm not my business.
WRITING
Searching for a creative outlet, in 2016, I joined Soho Theatre Writers' Lab for fun and discovered an unknown talent. Supported by the programme, I wrote my debut play, The Hoes, which received a full production at Hampstead Theatre in 2018. The play was shortlisted for the 2017 Tony Craze Award and Character 7 Award and longlisted for the 2017 Verity Bargate Award.

I am currently on commission with Soho Theatre and Paines Plough for my next play, Sessions, which will tour in Autumn 2020.

Following my curiosity and fascination with people, my stories explore the intricacies of people and the dichotomy between how we really are and how society or we portray ourselves to be.

I am represented by the good people at Independent Talent who saw the writer in me before I did.
Contact
For Chuku's queries, send an email via the website here.

For writing or speaking enquiries, drop a line to my agent here.

Want to join the For The Curious Minds community? Sign up here.

Please note, if you're reaching out to me on social media, I'm most active on LinkedIn and Instagram but use all platforms sporadically.